Absolute Commercial Kitchens – Whiterock Cladding
We supply and introduce top quality whiterock hygienic wall cladding, this is the most noteworthy quality effect safe, fire resistant, low upkeep whiterock however has a material certification of 14 years and as you are likely mindful currently is exceedingly suggested by Health and Safety as the favored divider covering other than tiles or painting.
The cost per square meter works out less expensive than traditional tiles and when you take a gander at the cost of keeping up a normal tiled divider, including re-grouting, changing split tiles and so forth the sparing throughout the years, in time and cash before long mount up.
Once whiterock cladding has been introduced it is practically upkeep free, it just requires the typical sterile cleaning in ordinary business kitchen support.
We would welcome an open door in offering you for nothing out of pocket citation to supply and install whiterock within your kitchen.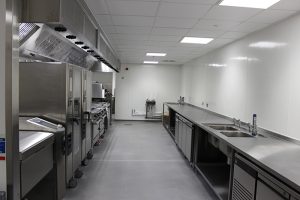 Whiterock is a clean and flexible divider cladding framework that is regularly utilized as a part of occupied spots where different sorts of divider cladding are less reasonable.
Frequently in business premises, particularly those where cleanliness is of high significance, this kind of whiterock cladding is ideal since it has numerous focal points over different sorts, here are the advantages:
Hygienic
This implies in territories, for example, business kitchens where tidiness is essential, Whiterock is great.
Easy to clean
This item can be effectively wiped down, influencing cleaning a brisk and simple to work, this adds to the cleanliness of the item.
Seamless installation
Installation does not require grouting, not at all like with tiles, so installation is more straightforward, in addition to this implies microscopic organisms can't get into those grouting zones where they normally assemble.
Waterproof
This implies water can't harm the cladding in any capacity and furthermore that it can't leak through to the divider and cause auxiliary issues.
Hard wearing
This item is amazingly tough and opposes harm, making it reasonable for some regions where different kinds of cladding would come up short.
Low maintenance
Because of the way that the item is waterproof, tough and simple to clean, it is probably going to require less repairs and remain in top condition for more.
All in all Whiterock is an elite, multi-reason divider cladding that isn't ideal for territories like business kitchens yet additionally for zones, for example, hallways, gatherings, general stores and classrooms.
In the event that you are intrigued or might want more data about White shake, kindly don't delay to connect with Absolute Commercial Kitchens and we will be happy to advise you.
Whiterock Hygienic PVC Wall Cladding is the best contrasting option to artistic tiles and paint in territories, for example, business kitchens, showers, store rooms, labs and whatever other regions that require a sterile situation.
Absolute Commercial Kitchens offer an entire arrangement of perfect divider cladding as it is intended to be good with Absolute Commercial Kitchens.
Absolute Commercial Kitchens Whiterock is developed from the most astounding quality virgin-review PVC, with a tight atomic structure that keeps the entrance of dampness and scent. It joins stabilizers for great UV dependability and won't stain after some time.
Absolute Commercial Kitchens have built up a scope of various joints to meet a scope of various needs, including feel, water-snugness, and wellbeing and security. Look over welded joints, Absolute Commercial Kitchens Whiterock FlexiJoint, standard two-section trims, and that's just the beginning.
Whiterock has been available for approximately 2 decades, and it is recognized by Health & Safety Organisations as well as the commercial catering equipment industry as being the most economical and hygienic wall covering that is available.
It has a proven track record of being virtually maintenance free and only requiring light cleansing to maintain its hygienic lustre. When whiterock first came on to the market it was considerably more expensive than conventional tiling, however today that is not the case, the cost of whiterock has fallen dramatically against the cost of ceramic tiling.