Absolute Commercial Kitchens – Gas Interlocking Systems Services in Northwest
To comply with gas safety standard, all new kitchen establishments must have a gas/ventilation interlock introduced. The interlock essentially close off the gas framework when no wind stream is distinguished through the ventilation framework.
The principle purpose behind such frameworks are to shield the territory from unsafe gas develop, when the ventilation isn't running, or the zone is abandoned.
Gas interlock frameworks extend from basic ventilation interlocks, to the further developed gas demonstrating and spill discovery frameworks. Standard interlocks incorporate.
Air stream interlock
Fire alert interlock
Gas demonstrating switch interlock
External gas stop buttons
Additional external time clocks etc…
Our works with kitchen ventilation frameworks, frequently incorporates the supply and establishment of interlock frameworks. We are completely enrolled for the gas establishment and dispatching works of business and mechanical gas pipe work.
Our Simple gas supply pipework gas safe enlistment incorporates the capacity to introduce, test and commission gas pipe work down to the machine as it were. Straightforward cooking extents and general plant room works are altogether included…
We supply and fit gas interlocking systems (GIS) that are currently lawfully required in business kitchens.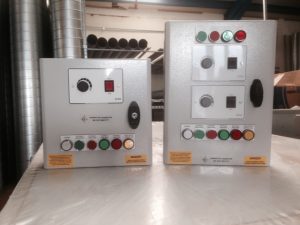 A Gas Interlock checks the kitchen extricate fan is running previously permitting gas in to the kitchen. In the event that the fan stops, it will remove the gas supply.
You will need a gas interlock in the following circumstances:
On establishment of a totally new extraction/ventilation canopy
On establishment of a totally new gas pipework run
On establishment of a totally new cook line or format
With any fitting of Category 'B' gear e.g. blend broilers, profound fat fryers, flame broils, charcoal irons. This incorporates substitutions to a current design.
Control Panel & Emergency Stop
Absolute Commercial Kitchens gas interlock control board is completely programmed and incorporates the required crisis stop catch. It would current be able to screen up to four fans. A few boards can be confused with numerous catches, keys switches, presentations and sensors.
Solenoid Valve
This is an electric valve which kills the gas on and, it is controlled by the previously mentioned control board. The cost of the valve relies upon how enormous the gas pipe is.
Current Monitoring Gas Interlock
Measures power being utilized by the fan; exceptionally dependable in light of the fact that there are no moving parts and nothing can get blocked. This is the sort we supply.
Pressure Sensing Gas Interlock
A pneumatic stress switch distinguishes when the fan is running. They are shoddy however inconsistent; the switches get obstructed by oil and soil, hoses are coincidentally separated and the switch's moving parts stick or break. We prompt against their utilization in business providing food.
Additional Sensors & Connections
Some control boards have extra associations for flame cautions, Carbon Monoxide and CO2 locator sensors, remote crisis stops, and fan speed control et cetera. These are not regularly required.
Proving Gas Interlock
After checking the fan (by air pressure or electric current), this tests (demonstrates) the gas channels for breaks and open valves previously enabling gas to stream. They are just generally required in old kitchens and more costly.
Commercial kitchens should have a proper interlocking framework between the mechanical ventilation framework and the activity of gas machines – disappointment of the framework causes the gas supply to close down.
Where there is no interlocking of the ventilation framework and gas supply, Absolute Commercial Kitchens can help. We'll survey whether a hazard is probably going to emerge and, provided that this is true, ensure it is forestalled or controlled properly.
Along these lines, in the event that you'd get a kick out of the chance to discover more about gas interlocking systems, if it's not too much trouble connect to orchestrate a visit. We'll organise one of our accomplished architects to review your hardware and help discover an answer that works best for you.